Nintendo announced Mario Kart 8 Deluxe Course Booster Pass Wave 6
September 14, 2023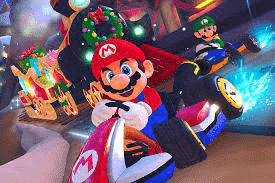 Mario Kart 8 is one of the best-selling games on Nintendo Switch as it has sold over 55 million copies since its launch. Nintendo recently announced Mario Kart 8 Deluxe Course Booster Pass Wave 6 and this pack will be launching this holiday season for Nintendo Switch. This DLC will add 48 new tracks to the game with multiple new characters.
As for now, Nintendo has only revealed the Daisy Circuit course from Mario Kart Wi but the DLC is expected to include seven courses.
As far as the characters go Nintendo has decided to bring back 4 racers from the previous game including Diddy Kong, Funky Kong, Pauline, and Peachatte all make their Mario Kart 8 Deluxe debut in Wave 6.
The Booster Course Pass is a DLC that adds 48 new courses to Mario Kart 8 Deluxe. It can be purchased separately for $24.99 through the Nintendo eShop. However, if you are a member of Nintendo Switch Online + Expansion Pack, you can get the Booster Course Pass for free as part of your membership.
Here are some additional things to note:
The Booster Course Pass will be released in 6 waves of 8 courses, with the first wave releasing on March 18, 2022.
The Booster Course Pass is not a subscription. Once you purchase it, you will have access to all of the courses forever.
The Booster Course Pass is not required to play Mario Kart 8 Deluxe. However, it does add a lot of new content to the game.
Read More:
88 minutes of Assasin Creed Mirage Gameplay leaked online
Horizon Forbidden West Is Coming To PC