Unleash the Gaming Beast with Redragon K556 RGB
October 26, 2023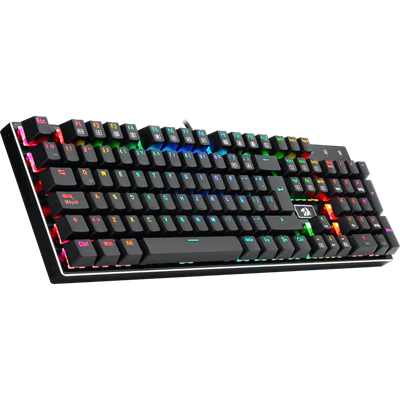 In the world of gaming peripherals, finding the perfect keyboard can be a daunting task. Gamers demand precision, speed, and style, and the Redragon K556 RGB stands tall as a contender for the crown. This mechanical marvel has taken the gaming world by storm, offering a dazzling RGB experience and robust features, and is only priced at $59.99. In this article, we will dive deep into the Redragon K556 RGB, exploring its specs, pros, and cons and providing the information you need to make an informed decision.
Features:
Mechanical Key Switches: The Redragon K556 RGB has a choice of mechanical key switches, including Blue, Brown, and Red. This allows users to select the switch type that suits their typing and gaming preferences, whether it's a clicky and tactile feel (Blue), a quieter typing experience with tactile feedback (Brown), or a smooth and linear keypress (Red).
RGB Backlighting: The keyboard features 18 different RGB lighting modes and allows customization with 16.8 million colors, providing a visually stunning experience. You can create unique lighting effects to match your gaming setup or personal style.
Solid Build Quality: The K556 RGB has a robust metal frame that enhances the keyboard's durability and gives it a premium look and feel. It's designed to withstand the rigors of gaming and heavy usage.
Anti-Ghosting and N-Key Rollover: This keyboard offers full N-Key rollover, ensuring that every keypress is registered accurately, even when multiple keys are pressed simultaneously. This is crucial for gamers who need fast and accurate inputs during intense gaming sessions.
Customization Software: Redragon provides a software suite that allows users to customize the RGB lighting, create macros, and configure various keyboard settings to suit their needs. This software makes it easy to fine-tune the keyboard's performance and aesthetics.
Multimedia Controls: The K556 RGB has dedicated multimedia controls, allowing you to adjust volume, play, pause, skip tracks, and more without leaving your game or application.
Double-Shot Injection Keycaps: The keycaps are double-shot injection molded, which means that the characters on the keys won't fade or wear off over time. This is especially important for heavy users who want their keyboard to maintain its aesthetic appeal.
Contents/Unboxing:
Box Includes:
Redragon K556 RGB 104-key mechanical gaming keyboard
User Manual
Keycap Puller
Warranty Card
Spared Switches (2 Blue, 2 Brown, 2 Red)
Pros and Cons
Pros:
Stunning RGB Lighting: The Redragon K556 RGB boasts 18 lighting modes and 6 themed backlights, allowing gamers to customize their setup perfectly.
Durable Build: Built like a tank, this keyboard features a solid metal frame and double-shot injection keycaps.
Outstanding Value: Offering premium features at a budget-friendly price.
Versatile Switch Options: Available with various mechanical switches, catering to different typing preferences.
Cons:
Bulky Design: The keyboard's substantial size may not be ideal for users with limited desk space.


No Dedicated Macro Keys: Lack of dedicated macro keys could be a drawback for gamers who rely heavily on macros.
Specifications:
Dimensions:
Length: 17.1 inches
Width: 4.9 inches
Height: 1.5 inches
Weight: 1.18 kg
Keyboard Specs:
Keyboard Type: Mechanical
Key Switch Options: Redragon Mechanical Switches (Blue, Brown, Red)
Backlighting: 18 RGB Backlight Modes
Construction: Metal Frame, Double-shot Injection Keycaps
Connectivity: Wired USB
Anti-Ghosting: Full N-Key Rollover
Final Thoughts:
In my opinion, the Redragon K556 RGB is a gaming keyboard that delivers exceptional value. Its RGB lighting, durable construction, and versatile switch options make it a top choice for gamers on a budget. While it may not have every feature found in high-end models, it more than makes up for it with its affordable price point. If you're looking for a gaming keyboard that offers a fantastic balance of performance and customization without breaking the bank, the Redragon K556 RGB is well worth considering. You can buy it from Redragon's Official Website or Amazon.
Read more:
Is Loki Season 2 The Best Project By Marvel?