One Flew Over the Cuckoo's Nest: Insanity Unbounded
September 6, 2023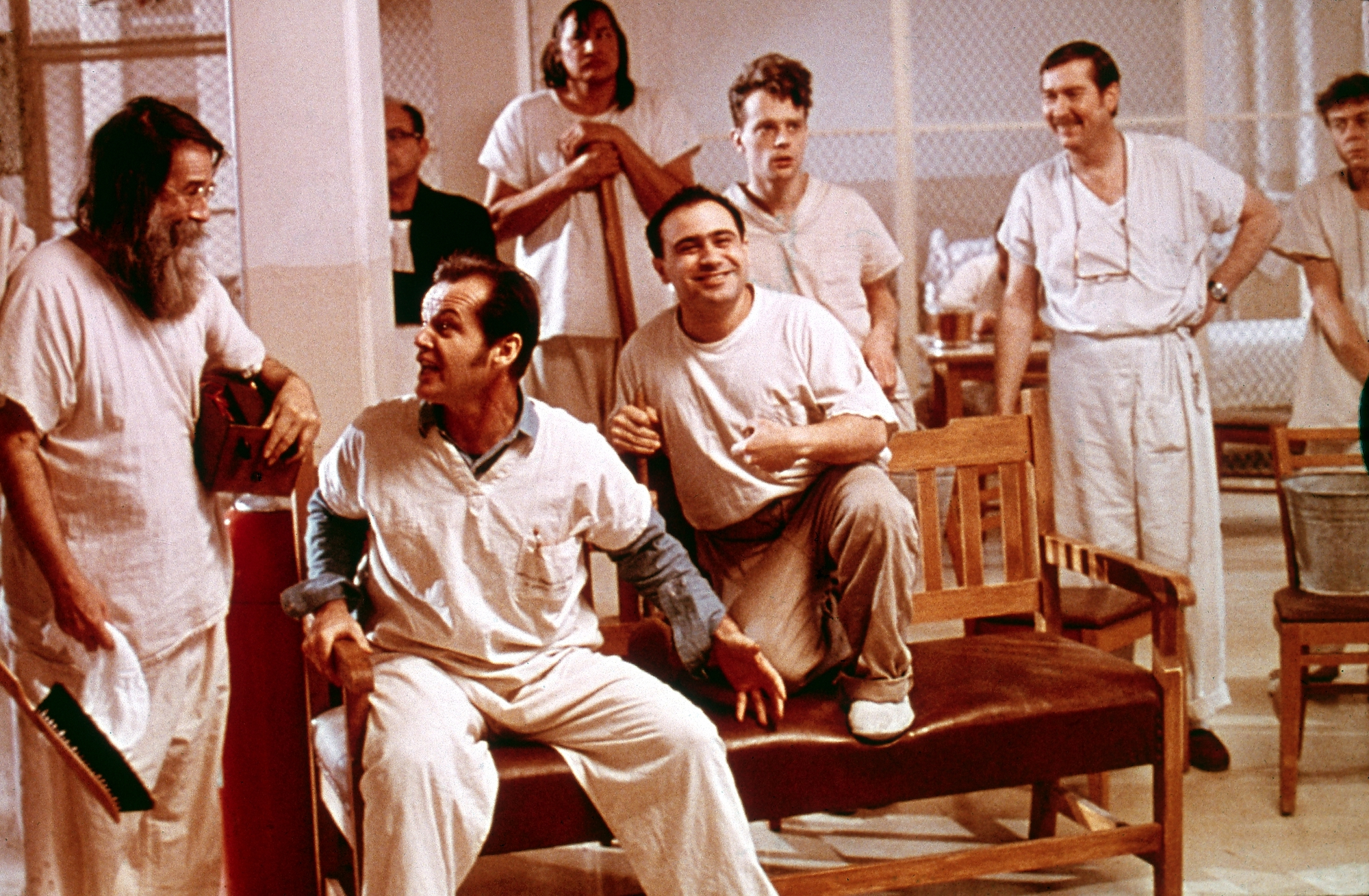 3.5/5
Story and Setting
"One Flew Over the Cuckoo's Nest" is a 1975 film directed by Milos Forman. It is based on the book of the same name by Ken Kesey, which deals with a psychiatric hospital in the 60's. The film is an early criticism of the treatment of mental health issues in post-war America. It serves as a window into issues of not just mental health but race and gender in the 60s.
Randle McMurphy (Jack Nicholson) is placed under inspection by the psychiatric hospital to confirm whether he suffers from any mental issues. He attempts to befriend the despondent patient and sees varying levels of success. His efforts to make something of the dull practices of the hospital face stiff resistance from Nurse Mildred Ratched (Louise Fletcher), whose attempts to control McMurphy only result in a burgeoning rebellion by the inmates.
Good vs Evil, Fight the Power
"One Flew Over the Cuckoo's Nest"'s most apparent and well-known theme is its parable for life in industrial society. This is a strong theme in the book but is exacerbated by Milos Forman's role as a director. Milos Forman confessed on many occasions his view of the hospital staff and characters as stand-ins for the communist bureaucrats whose repression he after the Prague Spring and subsequent Soviet invasion in his home country of Czechoslovakia.
"One Flew Over the Cuckoo's Nest" can be viewed simply as an anti-establishment tale, with McMurphy as a free-spirited bohemian fighting against the conformity enforced by Nurse Ratched. McMurphy enlightens previously docile inmates, who become increasingly resistant to the rules set by the psychiatric hospital. This culminates in the filmic ending, with Chief, a well-taught pupil of McMurphy's, finally escaping.
Or not?
But in pursuing this parable, the story sometimes degrades its characters. McMurphy's influence, at most times, seems more forced on characters than learned. One example is the fishing trip, where McMurphy steals a bus full of mentally ill patients and forces them onto a boat to learn how to fish.
Suppose that isn't already somewhat messed up. In that case, it's keeping in mind that none of the patients have any input in McMurphy's plans, and at times, it seems McMurphy is just his old criminal self taking advantage of impressionable patients to reach his ends.
There is, in fact, a moral ambiguity in the film's perfect good vs. evil narrative. Nurse Ratched, seemingly featured on every list of evil villains you can find online, didn't come off in any such way to me personally. McMurphy and Nurse Ratched are fighting a personal battle, and both have times where they seem to care about their patients genuinely, and both have times where they only appear to be using them as vulnerable pawns in their powerplay.
However, it is hard to ignore how much the film perpetuates this revolutionary zeal. At its best, the film captivates the audience with the joy of McMurphy's rebellion, letting them wilfully ignore the holes.
A quote from Roger Ebert encapsulates this well: "Is "One Flew Over the Cuckoo's Nest" not a great film because it is manipulative, or is it great because it is so superbly manipulative?". Milos Forman fantastically fosters excitement for this rebellion, and this ambiguity may be intentional but only masterfully subtle.
A String of Fantastic Performances
Often termed "Jack Nicholson at his most Jack Nicholson," it is difficult to imagine anyone else in the role of McMurphy. Jack Nicholson is often attached to vaguely neurotic characters, and McMurphy fits right into this ensemble.
He delivers McMurphy's crude and perverted personality with a fine believability, which allows for McMurphy's political charisma to shine through, even at times, capturing the audience into his ideas. In other words, it's hard to make an open pedophile so loveable.
Louise Fletcher, at the time a relatively unknown name, excels in portraying Mildred Ratched, attaining an Oscar for her role. Again, it is hard to imagine a Nurse Ratched without her (other adaptations have tried and failed).
Nurse Ratched's appeal is extremely subtle, and Louise Fletcher balances her stern, cold appearance in a way that gets massive audiences to loathe her without explicitly doing much. No, how did Nurse Ratched become such an infamous villain with what is, on paper, such a dull role?
I'll take this time to rant about my confusion at Nurse Ratched being so wildly detested. She plays a soft role in this film and doesn't appear as a principal character. In the end, she asks a patient about his health with a smile, and all of a sudden, it seems easy to believe that her rules are less an act of control and tyranny, but instead a genuine (perhaps misplaced and condescending) attempt to parent her patients for their good. Of course, Louise Fletcher is praiseworthy for handling this so well.
Danny Devito is also in this film, which is genuinely crazy because he seemed to have veiled himself in the clear view of many in the audience, including me. He is a master method actor who sinks into his roles with unbridled passion.
TL;DR
One Flew Over the Cuckoo's Nest tried and tested the "life-changing eccentric who renovates his environment" cliche before films like Shawshank Redemption got a chance, and it plays its cards well. At its best, the film is gripping and exciting and involves the audience in McMurphy's mischief. It performs so well in the department that it's easy to ignore the conflict in its themes.
Pros:
A very entertaining watch
Genuinely innovative in speaking about issues of race, mental health, and industrialization so early on
fantastic performances all around
Cons:
The story and its character seem confused or directionless at times