Kagura Bachi : The Story So Far
October 5, 2023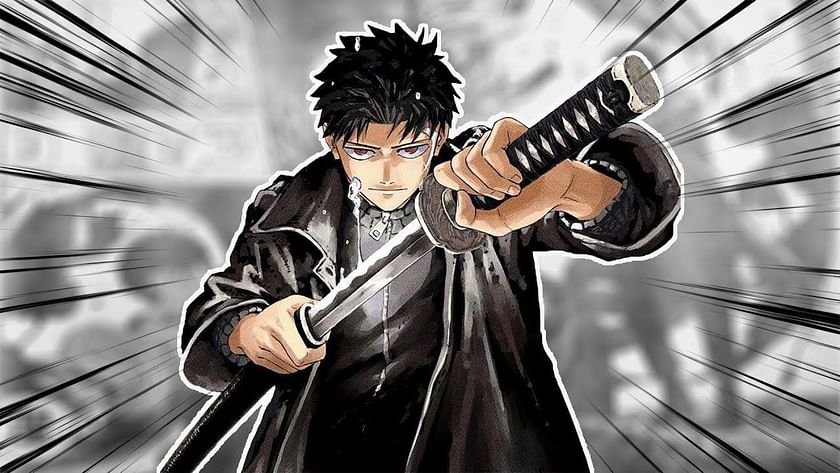 The new super-hit manga, Kagura Bachi, is paving its way to becoming one of the most-known manga of all time, alongside One Piece, Boruto, Dragon Ball, etc. Its success is its unique story, enticing plot, and chilly protagonist, Chihiro. The story of this fantastic manga has progressed as chapter 3 was released on October 2, 2023. In this article, I'll sum up the characters introduced, the character development of the protagonist, and the storyline of all chapters released till now.
Storyline
Chapters 1 and 2
The story kicks off with a young Chihiro helping his father with his work, which is sword making. Chihiro's father, Kunishige, is a skilled blacksmith and a known swordmaker of his era. Chihiro practices daily to hone his skills to become a blacksmith of his father's level. Tragedy strikes and Kunishige is killed by some necromancers who seek the six demon swords made by Kunishige himself. These swords hold mythical powers that Kunishige forged during his prime; at that time, he developed many swords that helped his country win the war against the nation's enemies. It was said that Kunishige's blades were dipped in sorcery. Traumatized, Chihiro seeks revenge and the desire to find those six demon swords. He wields the 7th and the last demon sword forged by Kunishige and sets on a journey to find the people who killed his beloved father.
After a 38-month time skip, Chihiro, with Shiba (an old friend of Kunishige), is traveling to find this Yakuza, a criminal organization that has been taking over the country. Few people tried to attack and charge against the Yakuza but failed and were publicly killed. The same case is seen when a higher-up from Yakuza is interrogating a boy, asking what he knows about the organization's depths, which he refuses to tell, and a sorcerer then comes to question him. Chihiro enters the scene, killing every Yakuza member except that higher-up, and asks him about a person named 'Hishaku,' who is, according to Chihiro, the head of the sorcerer organization. As soon as the higher-up starts to talk about Hishaku, he bursts into a tree-root structure.
Chapter 3
Chihiro and Shiba visit a familiar bar that they used to go to three years ago after Kunishige's death. The bar is managed by a girl named Hinao, who already knows Shiba. When they enter the bar, they learn that a little kid named Sharu, chased by some "bad guys," has some weird Katanas. Hearing this, Chihiro asks the kid, but he refuses to tell him. Seeing this, Chihiro decides to take him out to eat Tempura Soba so the kid can open up to him. While eating the Soba, the kid tells Chihiro his name, Sharu, about the sword she saw, which she mentioned had a 'cloud' coming out of it. Chihiro immediately remembers the sword. Meanwhile, in the background, a sorcerer, who was looking for Sharu, destroys the place with his sorcery and captures Sharu. Chihiro is ready to battle him when the chapter ends.
Character Development of Protagonist
As a shounen protagonist, Chihiro has grown rapidly since the first chapter. From a kid who used to live happily practicing his sword forging skills with his father to a grownup who mastered katana techniques to avenge his father and to bring the six demon swords back. Chihiro's becoming colder with each chapter. It's because he understands the duty he has on his shoulders and the responsibility as a son.
Characters Introduced
Chapter 1
Apart from the main characters (Chihiro and Kunishige), Shiba, a friend of Kunishige, is introduced. He is a professional sorcerer. He is a caring and responsible type of person.
Chapter 2
No vital character is introduced in this chapter except a sorcerer who seems to be in the sorcerer organization that Chihiro talked about, which Hishaku leads. The same sorcerer was seen at Kunishige's murder scene. This can be confirmed by the sign on his hand, which was the same at both locations, hence confirming he was the same sorcerer.
Chapter 3
First, we were introduced to Hinao, a girl who works at a bar and knows Shiba well. She seems to like Chihiro because of his extraordinary personality. Then we were introduced to another character, Sharu, a kid girl being chased by sorcerers. She seems to have a good appetite. She also seems essential to the sorcerers as she may have some vital information on them.
These were the main characters who were introduced in chapter 3.
FAQ:
Q: What is Kagura Bachi?
A: Kagura Bachi is a new manga about a 15-year-old boy named Chihiro who wants to be a swordsmith like his father.
Q: What is the plot of Kagura Bachi?
A: Chihiro's father is killed by necromancers, and Chihiro vows revenge. He sets out on a journey to learn how to become a swordsmith and defeat the necromancers.
Q: What is the power system in Kagura Bachi?
A: The power system in the manga is not clear yet, but it may involve katanas and sorcery.
Q: When was Kagura Bachi released?
A: Kagura Bachi was first released in Japan on March 4, 2023.
Q: Is Kagura Bachi popular?
A: Yes, it has been very popular since its release. It has been praised for its art, story, and characters.
Q: Where can I read Kagura Bachi?
A: It was published by Shueisha and serialized in Weekly Shonen Jump magazine.
Q: Do you have any other questions about Kagura Bachi?
A: Please leave a comment below, and I will do my best to answer your question.
Read more from us:
How Streaming Services Became What They Sought To Destroy